My Child At School
What is MyChildAtSchool?
MCAS allows parents of students to monitor their child's progress in school. MCAS is available to all parents that have legal parental responsibility.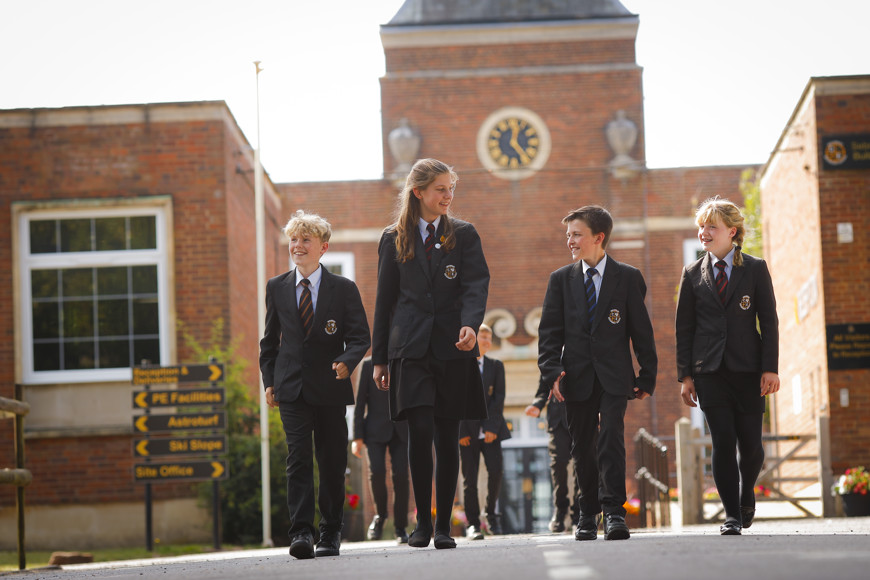 How to access MCAS
To receive access to Parent Portal, we require that you have your email address registered here at Wolverley CE Secondary School. This is used to receive an automated email with your login details. You will have previously submitted your email to us on the Student Personal Information Form when your child started.
Within the first half term of the new academic year all parents/carers (with parental responsibility) are sent an email containing their username and password for MCAS. Simply follow the instructions in the email to get logged in.
General Support
---
If you have any difficulties registering using the link in the email we have sent you, you can register using your web browser and follow the instructions below:

You will see a login pane like the one pictured here.

It is in this pop up that you need to click on redeem invitation code which will take you to the next window.

Enter the school ID, Username and the invitation code we have given you. Click the I'm not a robot box and complete the verification pictures.

Then select the Redeem Code button.

You will then be required to create a password and enter your email address. Once completed, confirmation that you have successfully registered your account should appear.

Once registered you will either be taken directly into your son/daughter's MCAS record or back to the login pane where you will need to enter the School ID, Username and the password you created – we recommend that you tick the box to remember your school ID and username.

Note: Adding your email address is for resetting forgotten passwords only. If 'forgotten password' is selected, the reset link will be sent to you by email - school cannot reset passwords.

Tips:

Do not insert any spaces before entering the school ID or Username
The Username is not your email address it is the Username we have given you
If you have any difficulties registering, please do not hesitate to contact the school
MCAS viewed via a desktop PC or laptop is slightly different from the App so give this a try too

If you forget your login details or password, please click the "Forgotten Login Details?" at the login page (or click here) and select "I need to reset my password". You will be asked to provide the school ID which is 11294 and your personal email address linked to the MCAS account.

If you need to submit a new or amended email address please get in contact with the school to make this change.

PLEASE NOTE - Due to GDPR email address changes cannot be made over the phone.

If you need any further help, please contact us.

Should you have any concerns about the information that is in our system please don't hesitate to contact the school, or your child's Head of College or tutor.
What can be seen in MCAS
You can view your son/daughters Attendance, Behaviour, Monitoring Reports, Full Reports and Timetable through MCAS. Please see the parent guide above.
Student and Contact Information Review
Every year it is a legal requirement and important for us to ensure the information provided on the Student Personal Information Form which is transferred to our Management Information System regarding your son/daughter is up to date and as accurate as possible. It is also your responsibility as parent/carer, who holds parental responsibility (PR), to inform us if any information regarding your son/daughter changes during the school year.
To review the information we hold on your son/daughter, please log into MCAS and check that your son/daughter's information as well as your own contact information is correct (name, home address, all contact numbers and email etc). You will find that there are certain sections you can amend yourself and others you can only view. Any changes you do make will require verification by us before they update within MCAS, so there may be a short delay before you can see the changes. If there is any information which is incorrect which you cannot edit, please let us know.
Notification of any changes you cannot change within MCAS or if you unable to review the information through MCAS, please email office@wolverley.worcs.sch.uk.
Important:
You will only be able to see and amend your own contact details. It is, therefore, essential that both parents/carers who hold parental responsibility log into MCAS to review their information. Only those parents/carers listed as a contact, who have indicated they hold PR, have supplied us with their own email address will have received their MCAS login information. If you do not have a login, require more information or help registering please email: caroline.palmer@wolverley.worcs.sch.uk.
Please note: Contacts with legal parental responsibility cannot be removed from a student record unless we receive legal documentation requesting this or written permission from the contact themselves.
Other Contacts and Priority Order
You may have provided us with the contact details of other persons (e.g. grandparent, other family member, friend, social worker) we can contact if we were unable to contact yourselves. You will not be able to view their details but if at any time you are aware their contact number, address etc has changed, if they are no longer required as a contact or you simply want to check their details are correct, please contact us by email.
Contact priority order: Contact priority 1 is the person (with PR) whom the student lives with. Contact 2 and 3 are the persons we will contact for medical or in an emergency if we cannot locate contact number 1. If you would like to review your son/daughter's priority contact order, please contact us via email: office@wolverley.worcs.sch.uk.
For any low-risk off-site visits and PE fixtures and in case of emergency, we use your contact details and the student's medical information directly from their record, therefore, it is very important this information remains accurate throughout the school year.
As mentioned earlier it is your responsibility as parent/carer to ensure that we hold accurate contact and medical information on your son/daughter at all times and we recommend and encourage you to check your data regularly by using MCAS. If you are unable to review the information we hold, via MCAS, please email us any changes. We will be sending out regular reminders during the academic year.
Useful links:
Our School Admission Booklet which includes useful guidance notes can be found here.
For clarification of who holds parental responsibility, please click here.