Chaplaincy
At Wolverley we believe that everyone is unique. We enable everyone to experience 'life in all its fullness' through living out our core biblical values.
We are passionate about developing well-rounded individuals by striving for excellence in everything that we do, so that all are inspired and empowered to fulfil their AMBITION UNLIMITED
Chaplaincy at Wolverley Church of England Secondary School
Wolverley CE Secondary School is a happy, caring community where students and staff learn to accept and tolerate differences, respect themselves, the environment and each other. Every member of our community, whether Christian or not, is valued and cared for as an individual. We support all in the forming of their own opinions and finding their answers to the big questions ins life.
At Wolverley our Chaplaincy Team play an important part in ensuring that the everyone feels valued and flourish in school. Our Chaplains are on hand to support our students and staff with the big questions of life. They give time to listen to peoples experiences and help them to grow. Our Chaplains are available for staff and students of all faiths and none to offer pastoral and spiritual support as well as offer a friendly ear. Chaplains also support the school in maintaining its Christian Distinctiveness.
Our in-school Chaplain and Community Chaplains also work together on Collective Worship and special services to support the worshipping life of the school.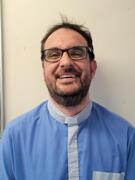 My name is Rev Duncan Hutchison, and I am part of the Chaplaincy team here at Wolverley CE Secondary School. Although I was born in England, I grew up in South Africa, in a small town outside of Cape Town nestled in between the mountains and the ocean. I really enjoyed living in South Africa and being part of a rich and diverse community.
Before becoming a priest I was teacher and worked at a range of schools in the Gloucestershire area. When I felt God calling me to be a priest, I felt very strongly that I needed to use my skills and experiences as a teacher to help and support those in schools to have a richer understanding of the love of God and experience Jesus' promise of 'life in all its fullness.'
Outside of work, I am married and have two wonderful daughters. I enjoy sport and particularly enjoy watching the Springboks play. I also enjoy music and find getting lost in the music a wonderful way to relax.