Information, Advice & Guidance
At Wolverley CE Secondary School, we believe in offering as many opportunities as possible to our students in order to prepare them for their future lives and potential careers.
We offer students access to relevant and impartial careers guidance, along with support and information sessions from an outside support agency called 'Reach Out'.
We work tirelessly to equip all young people with the appropriate knowledge, skills and understanding to progress to the next stage of education, employment and/or training.
---
Useful Links
Below is a selection of useful websites for both students and parents;
Parent Info - information, support and advice for parents
Passport Folio
icould - Multimedia Careers Information
Plotr - Explore Careers
National Careers Service - Government Website
Careers Box - Careers films on the Web
All About Careers - General Careers Information
Worcestershire Apprenticeships
Apprenticeships.org.uk - National Apprenticeships
Unistats - Compare official course data from universities and colleges
Not Going To Uni - Apprenticeships, Gap Years, Distance Learning and Jobs
UCAS - University Admissions Service
Skills4Worcestershire - Worcestershire's Labour Market Information
School Careers Strategy Plan 2021/2022
The below document outlines our commitment to delivering a high quality and diverse careers programme to all students as they progress through our school. Please click the link below to access the plan.
Wolverley CE Secondary School Careers Strategy Plan
Work Experience
As a school, we are keen to offer the opportunity of work experience to our students and are more than willing to assist and support those students who pursue it. We see it as an opportunity for students to gain a valuable insight into early career exploration plus a chance to acquire and practice fundamental employability skills.
Work Experience in Year 10 usually takes place during the last week of the Summer term. Students are welcome to source suitable placements from within the community or with family/friends, however they can speak with us directly in school enabling us to offer support in securing a placement.
Work Experience in Year 12 is compulsory and usually takes place for 2 weeks at the end of the Summer term. Students in Year 12 are encouraged to find their own placements, however we can offer assistance should the need arise.
Provider Access Policy
Introduction
This policy statement sets out the arrangements for managing the access of providers to pupils at the school for the purpose of giving them information about the provider's education or training offer. This complies with the school's legal obligations under Section 42B of the Education Act 1997.
Wolverley CE Secondary School is committed to providing a personalised education package for all our pupils, and this is reflected by our careers programme. Pupils will access different elements of the programme at different stages of their education whilst the focus will always be on preparing them for their future pathways, considering their own preferences. Our Careers Action Plan outlines our generic careers offer from Year 7 to Year 13. For some pupils, a more personalised offer will be in place.
Our focus links directly to the requirements of the 'Gatsby Good Career Guidance' report (2014) which became the basis for the statutory 'Career's guidance and access for education and training providers' (2018).
Pupil entitlement
The statutory guidance is relevant to 'all pupils in years 7-13' and we will also consider young people's developmental ages when preparing appropriate careers activities at Wolverley CE Secondary School ensuring that our pupils receive a careers programme which offers them opportunities to:
find out about technical education qualifications and apprenticeship opportunities, as part of a careers programme which provides information on the full range of education and training options available at each transition point.
hear from a range of local providers about the opportunities they offer, including technical education and apprenticeships.
understand how to make applications for the full range of academic and technical courses.
School's Careers Leader
Parents, teachers and employers may gain further information about our careers programme by contacting:
Adrian Hobday
Careers Lead
01562 859800
adrian.hobday@wolverley.worcs.sch.uk
Measuring and Assessment of the impact of the careers programme on pupils.
Evaluation of our careers programme is designed to enable us to examine what we do, consider how we can improve it and provide stakeholders with a summary of this.
This will include gathering information from the pupils about how they feel about their experiences in relation to the careers programme.
Pupil progress in Careers lessons will be evaluated each term as part of our ongoing Pupil Tracking process.
It is our aim to provide pupils with both experiences of the workplace and / or encounters with employers. These encounters and experiences will take place as part of curriculum lessons / workplace visits / assemblies / attending Careers Fairs and Events.
Management of provider access requests.
Providers wishing to request access should contact:
Stuart Knott
Deputy Headteacher
stuart.knott@wolverley.worcs.sch.uk
01562 859800
Opportunities for access
Our curriculum and careers programme include opportunities for providers to come into school to speak to our pupils and/or their parents/carers.
These can be arranged during timetabled Careers lessons or at other suitable times.
Please speak to our designated staff member to identify the most suitable opportunity for your organisation.
Premises and facilities
The school will make the main hall, classrooms or private meeting rooms available for discussions between the provider and students, as appropriate to the activity.
The school will also make available AV and other specialist equipment to support provider presentations. This will all be discussed and agreed in advance of the visit with the designated staff member or a member of their team. Providers are welcome to leave a copy of their prospectus or other relevant course literature with the designated staff member, who will ensure that these are available for the pupils to have easy access.
Provider Access Requests
All requests will be given due consideration by Wolverley CE Secondary School and Senior Leadership link and requests will be refused if:
They impinge on students' preparation for public or internal exams
They clash with other school events such as visits, other speakers, well-being days, school photographs, sports days, public or internal exams, parents' communication events etc.
The school is unable to provide staff to support the presentation or talk due to previous commitments
Rooming for the talk or event is unable to be found due to timetabling clashes
Feedback
Wolverley CE Secondary School welcomes parental and employer participation within our careers related activities. Should you wish to support our activity or provide feedback on our Careers Strategy then please contact our Strategic Careers lead directly.

ReachOut Support Services at Wolverley
Our Reach Out team provide one to one emotional support to students who are experiencing difficulties and need someone to talk to and offload.
Our volunteers are very experienced and trained in areas that can help with specific issues and provide techniques to help with anxiety, low self esteem and stress. Students may be having problems with break ups familly/friendships, bullying, what ever the problem, our aim at Reach Out is to provide the best possible support and help we can.
How to get referred: via School, heads of College/pastoral staff, parental referral, self, friends or email us direct at reach-out@mail.com and ask for Andrea or Dani.
Website Link - www.reachoutwyreforest.co.uk
Hobday's Jobdays Job of the Week
For further information on job roles click here to visit the National Careers Service.
If you are a Wolverley CE Secondary School student, enter our free weekly prize draw using the form below!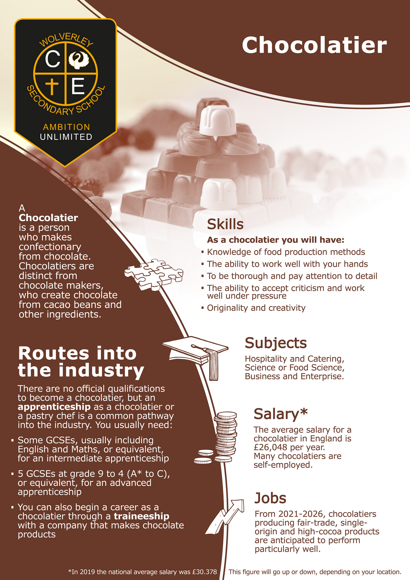 Job of the Week Entry Form